[infobox title='Important Note About Camping Along the Rogue']The Rogue River is one of the most popular multi-day rafting trips in the United States. While camping along the river, please select sites that are appropriate for your group size. If camping at a large site along the river, be prepared to share your site with a rafting trip. Rafting trips with large groups have very limited places to camp. Be courteous to other users of the Wild & Scenic Rogue River corridor.[/infobox]
Trail Hiker Permits: A Wild Rogue Float Permit is required for trail hikers, when trail hikers are supported by boaters. If a hiker hikes the entire trail and packs all their own gear, a float permit is not required.
The following information is written by Gabe Howe, Executive Director of the Siskiyou Mountain Club.
The Wild Rogue Loop
The 25 mile Rogue River Loop is a conglomeration of the Rogue River Siskiyou National Forest's Mule Creek Trail 1159, Panther Ridge Trail 1253, Clay Hill Trail 1160A, and the Rogue River Trail 1160. No shuttles. No fuss. Just pack your bags and go.
Before summer 2015, many trail miles had been swallowed back into the Rogue's steep slopes. Other trail sections were brushed in and full of downed logs killed by the 2005 Blossom Fire. Siskiyou Mountain Club crews restored the entire loop in 2015, and maintained the Rogue River Trail from Marial to Foster Bar.
The newly accessible 25-mile backpacking loop has five trailheads, offering a number of day hikes as well, like to a massive outcrop called Hanging Rock that looms over the wilderness. The route features the pristine gorges of Mule Creek, old growth havens of Panther Ridge, oak and pine savanna of Clay Hill, and, of course, the Rogue River itself.
Two trailheads are near the historic settlement Marial, OR, and three others are accessed from Eden Valley, closest to the towns of Agness and Powers. Use the Powers and Gold Beach Districts Map and Oregon Road Atlas.
Directions from Tucker Flat Campground:
The Mule Creek Trail crosses a bridge(42.725893,-123.875141) and winds back down to a wet creek crossing that in high water could be a deal breaker (42.727990,-123.877346). Here the West Fork of Mule Creek braids through a narrow gorge, its crystal waters pool up into long trenches, and spill out over little waterfalls into deep gravel beds.
The trail goes up and down again to a second creek crossing, then assumes an ascent through mixed forests, along cliffs and scree slopes, eventually opening up into an old road bed with perennial water around five miles from Tucker Flat, a great campsite.
Eventually the trail opened to an old road bed (42.752842,-123.901405) and reaches perennial water around five miles from Tucker Flat (42.767147,-123.912778), a great campsite.
Start hiking up the old road and reach the Buck Point Trailhead (42.755899,-123.931961). From there ascend on Panther Ridge Trail 1253 through untouched forests and take a side hike to Hanging Rock (42.740677,-123.930244). After a quick break at Hanging Rock, continue southwest on 1253, which roller coasters its way through more primeval forests to the Clay Hill Trail 1160A, which is well marked.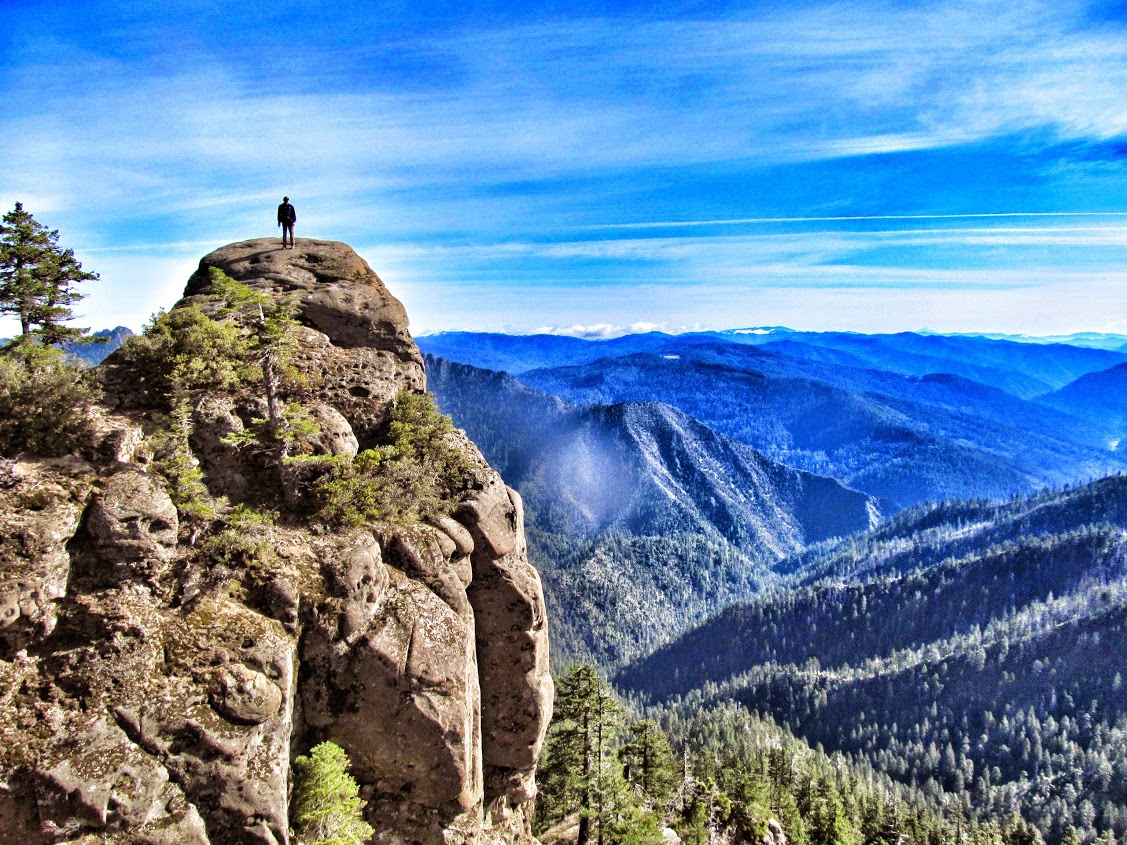 1160A has graceful, wide switchbacks deliberately laid by thoughtful trail engineers. But it doesn't come without some steep pitches. Reach the old Thomas Homestead (42.676220,-123.979897), the first perennial water source since Mule Creek headwaters.
The trail down from the homestead is a series of long switchbacks through a steep meadow. It winds through an oak savanna, into more old growth, and down to the Rogue River Trail (42.669594,-123.977768).
Head west, or upstream, along the sites that make this canyon famous, including the dreamy plateau at Brushy Bar Guard Station, the still waters of Huggins Canyon, Paradise Lodge, and finally Blossom Bar. Blossom Bar is another ideal camp, with a fresh side creek and easy river access. From there back to Tucker Flat is the 3.5 most memorable miles of the trip, for many hikers. The trail through Mule Creek Canyon was blasted from sheer cliff walls that drop into a slot canyon. The views are breathtaking.
The loop can be approached in its entirety. You can extend it by incorporating more of the Rogue River Trail, use it as a detour from the Rogue River Trail, or explore the many day hikes along it.